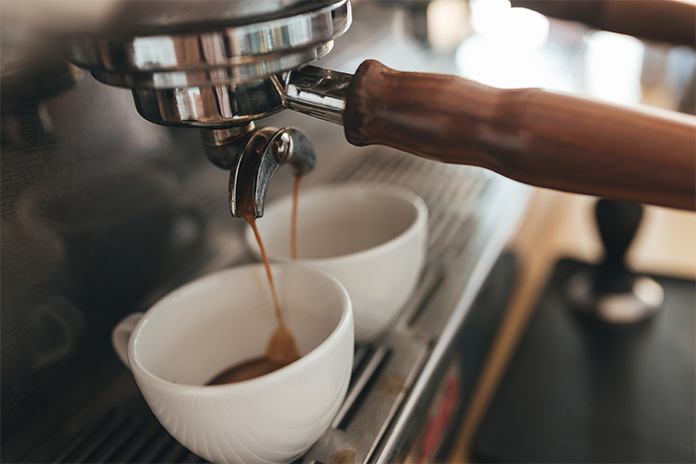 Updated 7/1
As a way of thanking Healthcare Workers and First Responders working along the front lines to help with the COVID-19 outbreak, many businesses are offering free offers and discounts. Below is a list of current offers. Check back regularly to see new additions and share any deals/discounts you find in our comments section below!
Cumberland Farms
Health care workers, first responders and military personnel can get a free any-size hot or iced coffee. This includes police officers, firefighters, active military, paramedics, doctors, nurses, hospital and medical staff and medical researchers.
When: Ongoing
Delta Sonic
Every Delta Sonic location with a Brick Oven will offer a free meal to "all doctors, nurses, EMTs, firefighters and police officers with a valid ID."
When: Ongoing
Dough Donuts
NYC's cult-favorite Dough Doughnuts is providing free individually packaged treats by the box to hospitals and health care workers in the Tri-State area to add a little happiness and sweetness to their lives. Check out Frontline Sweet Support to learn more.
When: Ongoing
Fazoli's
Fazoli's is offering all restaurant workers a Regular Spaghetti with meat sauce or marinara and a small drink for $2.99 for a limited time. Just show your restaurant name tag, uniform or pay stub to get the deal.  You can only get it through the drive-through window.
When: Ongoing
Genghis Grill
Health care workers get 20% off their carryout and call-ahead orders at all locations for a limited time. Show a badge or medical ID to get the discount. Genghis Grill posted this deal on their Facebook page. Genghis is also running a promotion in which health care workers can comment with a "scrubs selfie" while at work, and the restaurant will pick two winners a day to feature and reward with a free bowl.
When: Ongoing
Hooters
Hospital workers, first responders and military get 20% off.  Show your work ID for pickup orders, or for online orders choose the "Pay at Store" option.
When: Ongoing
IHOP
Get 20% off your entire check if you're a medical, law enforcement, military and firefighter professional. Just mention this offer when you call in your order to IHOP.  Then, show your Official ID when you pick up your order.
When: Ongoing
Krispy Kreme
Krispy Kreme started giving out dozens of donuts to health care workers every Monday starting March 26. The promotion was initially intended to last for two months and end during National Nurse's Week, but the donut chain has decided to continue serving a similar offer. Krispy Kreme will now offer medical workers $1 original glazed dozens with the purchase of any full-prized dozen. This promotion will happen every single Monday through the summer until Labor Day, September 7.
When: Through September 7
Naf Naf Middle Eastern Grill
Naf Naf is giving first responders and active or retired military personnel a 15% discount on their order. Show a valid ID and order in-store. This doesn't apply to catering orders.
When: Ongoing
Nando's PERi-PERi
Any "nurse, doctor or health care worker" who stops into a Nando's with an ID or wearing a uniform gets free takeout.
When: Ongoing
Mrs. Fields
Mrs. Fields is now offering 25% off their Heroes Collection of cookie tins honoring nurses and scrub-wearing health care workers (available in 30, 48 and 90 count for contactless delivery nationwide). Use the code THANKS to activate the discount.
When: Ongoing
Pizza vs. Pandemic
The deal: A partnership of three organizations, including local pizza shop delivery app Slice, is taking donations and suggestions for health care workers that could use a delivery of free pizza.
When: Ongoing
Steak 'N Shake
Get a free order of fries through the drive thru only, at participating locations. Limit one per customer per visit. No purchase required.
When: Ongoing
Sweetgreen
Sweetgreen is delivering free salads and bowls to hospital workers in Washington, D.C., Philadelphia, Boston, New York City, San Francisco, Los Angeles, Chicago and Houston.
When: Ongoing
Taco Bell
Taco Bell has turned its Taco Trucks, which are food truck versions of the QSR, into mobile commissary kitchens that bring food to frontline workers. "While most of our restaurants are operating only through the drive-thru, this leaves some truck and ambulance drivers unable to quickly order from us," company CEO Mark King said in a letter. He added that the chain is working with its franchisees to make this service available "where possible."
When: Ongoing
Tropical Smoothie Café
Tropical Smoothie Café announced that it would donate 100,000 smoothies to local health care workers and first responders nationwide. Medical professionals and first responders can contact their local Tropical Smoothie shop to have free smoothies delivered to their team.
When: Ongoing
Wawa
Wawa is offering all health care workers and first responders free coffee. Show your work ID or be in uniform as proof of your employment. Wawa posted details on their website. 
When: Ongoing
Other Discounts for Health Care Workers and First Responders
Adidas
Verified medical professionals, first responders, nurses and military members get 40% off their purchases (note: It doesn't seem that this deal can be used with other promotions or sales). Professional verification is required via ID.me.
When: Ongoing
Asics
Medical professionals and first responders get 60% off any full-priced product. You must first create an Asics account using your professional email.
When: Ongoing
Big Blanket Co
All health care, emergency and essential service workers qualify for $40 off their entire order by using this promo code during checkout: HEALTHCARE40.
When: Ongoing
Care.com
Frontline workers get a month of free premium access to the company's services, which include care for kids, aging parents and pets.
When: Free for 30 days once you activate
Crocs
Every day at 12 p.m. ET, Crocs is giving away free pairs of Crocs. However, there's a daily limit. Learn more.
When: Ongoing
Dagne Dover
Health care workers, teachers and members of the military all get 20% off Dagne Dover's collection of high-quality bags, backpacks and wallets. Learn more.
When: Ongoing
Down Dog
All of Down Dog's wellness, yoga and fitness apps are free through January 1, 2021, for health care professionals, teachers and students.
When: Through January 1, 2021
Emma Mattress
Emma is offering an additional 10% discount off any order for health care workers, first responders, warehouse workers, transportation workers and grocery store workers. To get the discount, send an email to support@emma-mattress.com and attach any documentation that acts as proof of employment, i.e., badge, paystub, contract, and Emma will process the discount for you. Learn more.
When: Ongoing
Free Hooks for Masks
Medical friends can get free hooks for masks to make them more comfortable to wear all day long. These are made of acrylic and very easy to sanitize as well as durable to last a long time. Please fill out this form to request any you may need for you and/or co-workers. "No cost to you at all. Any donations made for them will be used to purchase additional material to cut more. We have a long road ahead of us, and I appreciate each of you more than you know!"
When: Ongoing
Headspace
To help support health care professionals, Headspace is offering mindfulness content—from meditations to sleep and movement content—to listen to at any time for free. Sign up today.
When: Ongoing
Helly Hansen
As a thank-you, Helly Hansen has opened its Pro Program to health care professionals. You'll be granted a 50% discount on non-sale items at hellyhansen.com and hhworkwear.com. Sign up for the offer.
When: Valid for one year once activated
HELM Audio
HELM Audio has a Tag A Hero and Front Line Hero campaign running. We are giving away two pairs of HELM True Wireless 5 headphones each week until May 31 to heroes working on the front lines to fight COVID19. For those front line workers that don't win, HELM is offering a 50% off discount through ID.me on their website.
When: Ongoing
Lovesac
Right now, all medical professionals, first responders, military personnel and teachers can get 5% off their entire order at Lovesac.com.
When: Ongoing
Medelita
Get 30 percent off scrubs with code: FRONTLINES. Medelita was founded by a PA and complies with CDC guidelines (can be washed in the hottest temperature every single day and not lose durability), and the products have a 365-day warranty.
When: Ongoing
Nike
First responders and medical professionals (including technicians and researchers) get 20% off (usually this discount is 10%) most items on Nike's website. The discount can be used up to four times per month, and Nike uses SheerID to verify employment status. Nike also has partnered with nonprofit Good360 in the United States and local organizations across Europe to donate more than 140,000 pieces of footwear, apparel and equipment globally. This includes the donation of 30,000 pairs of Nike Air Zoom Pulse to health systems and hospitals in Chicago, Los Angeles, Memphis and New York City, as well as within the Veterans Health Administration.
When: Limited time
The North Face
Health care workers in the United States get a 50% discount. This can be used for the purchase of non-sale items on thenorthface.com and at The North Face–owned retail stores in the United States. Health care workers can also get a 10% discount on non-clearance items at our outlet stores in the United States. Lean more.
When: April 14, 2020, to December 31, 2020
ProTeethGuard.com
Choose from four different types of custom teeth guards for individuals who grind and/or clench their teeth due to bruxism. ProTeethGuard.com is offering an Initiative for Frontline Workers in the COVID-19 pandemic in which you get a $100 dollar credit off the guard of your choice. This credit is generated on a first come, first serve basis every week on Wednesday at noon PST. Find more information here.
When: Ongoing
Reebok
First responders, teachers, nurses and military all get 50% off their purchases, with no item exceptions. You must verify your status with ID.me.
When: Ongoing
ShearComfort
This automotive accessory e-commerce website is offering a discount to health care and essential service workers in order to provide them with better access to custom car seat covers, especially those that are easy to wipe down and disinfect. All health care, emergency and essential service workers qualify for a 22% discount off the regular price on all custom seat covers.
When: Ongoing
Simple Habit
This well-reviewed meditation app is making its product free. "We're giving away premium memberships for any individuals who are financially impacted by this pandemic. Memberships are typically $89.99/year and give access to our 150 world-class meditation teachers, therapists and coaches and 2,500 guided meditations for specific situations and moods." Email Simple Habit at help@simplehabit.com to receive your free premium membership.
When: Ongoing
Sittercity
All those working on the front lines of the crisis are eligible for three free months of Sittercity Premium, which connects families with trusted child care.
When: For three months once you activate the offer
Sonos.com
The audio company is offering a 30% discount on Sonos.com to verified health care workers and first responders for speakers and home theater sound equipment. To activate the discount, shop on Sonos.com and find the button at checkout that says "Healthcare/First Responder Discount. Verify with ID.me." After verified, you will get a one-time use code that is valid for 30% off a single purchase (up to $2,500 before the discount, valid on all Sonos products, cannot be combined with other promos). Add this code during the checkout process on Sonos.com.
When: Through December 31, 2020
Speeko
If you're a health care or public health professional working on the frontline, public speaking app Speeko wants to offer you a free subscription to the Speeko mobile app (iOS only). This is like "a gym membership for your voice." Get access to a library with more than 100 activities, ranging from storytelling to giving online presentations. Sign up here.
When: Ongoing
Thrivetalk
Telehealth company Thrivetalk is offering free mental health services for essential health care workers and first responders throughout the COVID-19 pandemic. Please visit thrivetalk.com/online-therapy for more information and to sign up. For those who aren't health care workers or first responders and are seeking mental health services, Thrivetalk is currently offering sessions at discounted rates. For example, 45 minutes sessions are $45 (regularly $75), and 60 minute sessions are $60 (regularly $90).
When: During the pandemic
ThirdLove
Saying bra-vo to our essential workers, Thirdlove is offering 15% off to military, veterans, medical professionals, first responders and teachers. Get verified here.
When: Ongoing
Tide Cleaners
Front line responders and their immediate family get free laundry and dry cleaning in participating cities.
When: Limited time
Tieks
Tieks For Heroes is giving $100 Tieks Gift Cards to front-line healthcare workers, first responders, and military service members. After focusing the past few months on getting you PPE, it's time to say thank you with Tieks. Click here to get verified and claim your gift card.
When: Through July 15
Trust & Will
We're offering all U.S. health care professionals who work in public health settings free access to a complete Will-Based Estate Plan, for themselves and their spouses. Head here to enter your information and receive a code for a free individual or couple's will valued at up to $129.
When: Ongoing
Tuft & Needle
Tuft & Needle is providing first responders and the military with 15% off their purchase.
When: Ongoing
Uber
Uber Health will provide transportation for front-line health care workers, both to and from patients' homes as well as between health care facilities, according to this news release. In the U.S., Uber is partnering with 1199SEIU, one of the country's largest health care unions, to make sure their members can get to work. They're also committing 300,000 free meals on Uber Eats to first responders and health care workers in the U.S. and Canada, 100,000 in London and 25,000 in Australia and New Zealand.
When: Ongoing
Under Armour
Right now, Under Armour is recognizing those on the front lines by offering a 40% off discount for military members, first responders, health care workers and teachers. Just choose Military and First Responder Discount at checkout to get your discount.
When: Ongoing
Verizon
Starting April 23, for new or existing Verizon customers, Verizon will expand wireless unlimited pricing to nurses and teachers. Both join active-duty military, veterans and people who work as first responders who already enjoying this pricing. Wireless unlimited plans will be as low as $30/mo per line for four lines, and Fios 200Mbps internet as low as $34.99/mo. Since the start of the COVID-19 crisis, Verizon has committed $45 million in contributions and donations to non-profits directed at serving students, health care workers, first responders and small businesses.
When: Ongoing
Vineyard Vines
Medical workers get 15% off their orders. A professional ID is required, and it will take one to two hours to be approved and receive your discount code. Learn more.
When: Ongoing
Do you know of any freebies or discounts for healthcare providers?
Please share in the comments section below so we can highlight for your fellow nurses and first responders. Thanks!