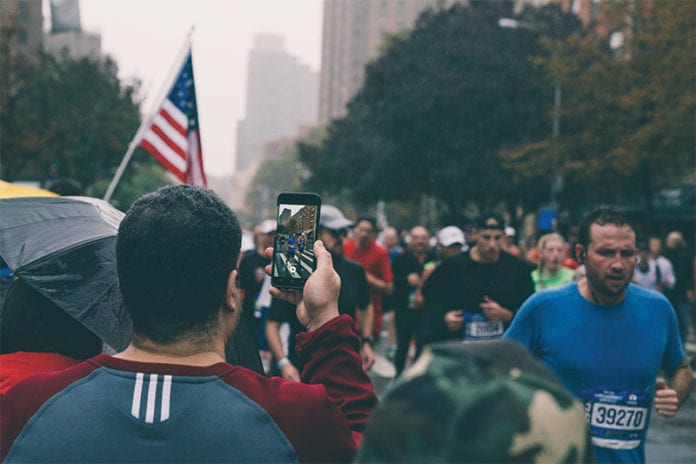 Did you hear about the runner-up in this year's Boston Marathon?!? Sarah Sellers is none other than a full-time nurse anesthetist who lives in Tucson.  In only her second career marathon race, Sellers, 26, wasn't even listed as one of the elite runners and shocked race watchers when she crossed the finish line close behind winner Desiree Linden.
According to The Wall Street Journal, Sellers doesn't have any sponsors. Still, she crossed the finish line in 2:44:04, a little more than 4 minutes behind Linden's time (2:39:54), qualifying for the US Olympic trials.
The combination of the wind and rain made conditions difficult, and it was the coldest Boston Marathon in 30 years. But it was worth it: Sellers leaves Boston with $75,000 in prize money.
"I think I'm going to wake up and this will be a dream," Sellers said. "It was a like a hurricane out there."
According to Kit Fox at Runners World, the first question asked at Sellers' news conference was, "Please introduce yourself. Tell us who you are."
Sellers attended Weber State, where she was a standout track and field and cross-country runner from 2009 to 2012.
There, she won the 5,000 meters and 10,000 meters three times — each — at the Big Sky outdoor championships. She also won the 5,000 meters twice and 3,000 meters once at the indoor championships.
She also did well in class, graduating with a nursing degree and a 4.0 GPA.
Since she also has a full-time job, training either happens at 8 p.m. or 4 a.m. In September, she ran her first marathon in Huntsville, Utah, which she won and set a course record.
Sellers' finish at the Boston Marathon is tops by a Utah native.
"This is a game changer for Sarah, in just her second marathon," Pilkington said, according to the Weber State website.
"This was one of the best fields they have ever had and was really tough conditions. I knew she was in good shape because her workouts were going so well.
"She has persevered through injuries, graduate school and has a full-time job, and still able to train in world class conditions."
It's inspiring to have one of our own achieve such an incredible accomplishment! Nurses can do anything -including place 2nd at the Boston Marathon! Way to go, Sarah!