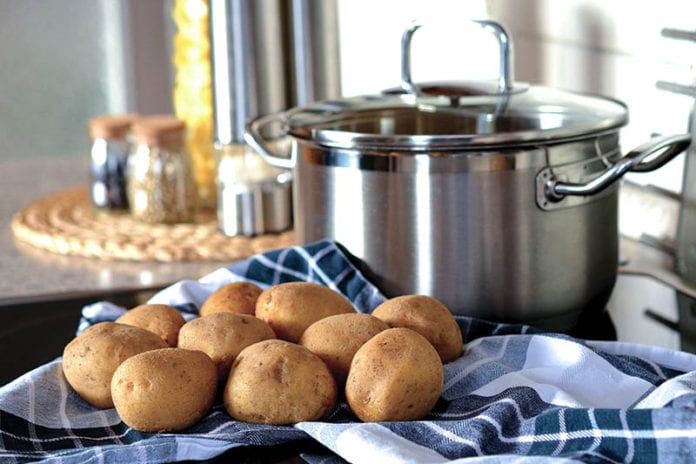 Looking for a delicious new side dish to add to your dinner repertoire? No matter the spice, potatoes are the ideal canvas for a variety of flavor combinations and sizzling side dishes and are excellent sources of vitamins and antioxidants. Or add a protein like chicken and your side dish becomes the main course! Check out a few of our favorite potato recipes below!
---
Spinach and Artichoke Heart Two Potato Casserole
Yield: 8
Prep Time:
Ready Time:
Cook Time:
Ingredients
1 lb. red potatoes
1 lb. Yukon Gold potatoes
1 1/4 cups vegetable broth or stock
1/2 cup shredded Parmesan cheese
1 teaspoon garlic salt
4 oz. Neufchatel (1/3-less fat) cream cheese
4 oz. fat-free cream cheese or 1/2 cup shredded fat-free Cheddar cheese
1 (7.5-oz.) jar marinated artichoke hearts, drained and chopped
1 (6-oz.) bag baby spinach, coarsely chopped
1/2 cup sliced green onions
Preparation
Preheat oven to 425 degrees F and coat a 9-inch square baking dish with nonstick cooking spray. Cut potatoes in half lengthwise. Place cut side down on a board and slice very thinly. Place in a large bowl and set aside. Heat broth, Parmesan, garlic salt, cheeses and artichoke hearts in a medium saucepan until cheeses are melted. Stir in spinach and cook until wilted. Stir mixture into potatoes with green onions, mixing well to coat potatoes as evenly as possible. Spread in prepared dish and bake for 30 minutes. Cover loosely with foil and reduce temperature to 375 degrees F; cook for 1 hour more or until potatoes are tender when pierced with a fork. Makes 8 servings.
Quick Tip: To shave an hour off the cook time, boil potatoes for 5 minutes or until tender, then drain well. Prepare as directed above then bake at 425 degrees F for 30 minutes.
Nutritional analysis per serving:
Calories: 180, Fat: 5g, Saturated Fat: 3g, Trans Fat: 0g, Cholesterol: 15mg, Sodium: 510mg, Potassium: 314mg, Carbohydrates: 25g, Fiber: 3g, Sugar: 1g, Protein: 9g, Vitamin A: 25%, Vitamin C: 45%, Folate: 23%, Calcium: 15%, Iron: 10%
---
Grilled Potato Kabobs with Lemon Herb Drizzle
Yield: 4
Prep Time:
Ready Time:
Cook Time:
Lemon-Herb Drizzle
1/4 cup extra virgin olive oil
3 cloves garlic, minced
2 tablespoons chopped fresh herbs (such as basil, rosemary, marjoram and sage)
1/2 teaspoon sea salt, or to taste
Juice of 1 fresh lemon
Freshly ground pepper to taste
Potato Kabobs
1 pound russet potatoes, scrubbed
1 (12-oz.) package precooked chicken sausage*, sliced 1/4-inch thick on the diagonal
2 ears fresh corn, cut into 1-inch pieces
1 zucchini, sliced 1/4-inch thick on the diagonal
Preparation
Heat olive oil in a small saucepan until very hot; remove from heat and stir in garlic. Let cool, then stir in herbs, salt, lemon juice and pepper; set aside. Place potatoes in a medium-size microwave-safe bowl and cover with a lid or plastic wrap. Note: If using plastic wrap, make sure plastic wrap is not touching any ingredients and poke one small hole in cover to vent. Microwave on high for 10 to 12 minutes or until potatoes are tender (cooking time may vary depending on microwave). Use oven mitts to carefully remove from microwave. When cool enough to handle, cut into large chunks. Thread potatoes, sausage and vegetables onto skewers. Grill over medium-high heat for about 10 minutes, turning frequently and brushing with a little of the herb mixture during the last few minutes of cooking. Remove from grill and place on a platter; drizzle with remaining herb mixture.
Calories: 340 Fat: 18g Cholesterol: 55mg Sodium: 680mg Vitamin C: 2% Fiber: 4g Protein: 15g Potassium: 682mg
---
German Potato Salad with Honey Mustard Vinaigrette
Yield: 4
Prep Time:
Ready Time:
Cook Time:
Honey-Mustard Vinaigrette
1/2 cups Lemon juice
3 tablespoons Honey
3 tablespoons Sherry wine vinegar
3 tablespoons Whole grain mustard
1/2 cup Olive oil
Salt and pepper as needed
Potato Salad
6 pounds Medium red potatoes, cut into 1-inch pieces
8 ounces Red onion, finely diced
8 ounces Green onion, chopped
1 pound, 12 ounces Cherry tomatoes, halved
3 tablespoons Parsley, chopped
Preparation
To make Honey-Mustard Vinaigrette, in small bowl, whisk together lemon juice, honey, vinegar and mustard until well blended. While whisking, slowly drizzle in oil until completely incorporated. Season with salt and pepper.
In medium saucepan, cook potatoes in 2 inches simmering water, covered, 20 to 25 minutes or until tender. Drain and cool. In large bowl, mix potatoes, Honey-Mustard Vinaigrette and green and red onions. Just before serving, mix in tomatoes and parsley.
Calories: 164 Fat: 5g Sodium: 80mg Fiber: 3g Protein: 3g Potassium: 556mg
---
Kootu Curry
Despite that yellow bottle of curry powder found everywhere, curry isn't a set blend of spices but a multitude of variations, some guarded as a family secret for generations. Here's a traditional curry from Kerala, the gorgeous southwestern strip of India, where the spice-laden land meets the Arabian Sea. You'll make your own curry powder and maybe start your own family secret! But if you want to avoid mixing all those spices, just substitute 2 tablespoons mild yellow curry powder doctored with 1/4 teaspoon cayenne. If requiring a gluten-free recipe, check the label of the indicated (*) recipe ingredients to ensure they are gluten-free.
Ingredients
1/2 cup plus 6 tablespoons unsweetened coconut (see note)
1 1/2 teaspoons ground ginger
1 1/2 teaspoons ground coriander
1 1/2 teaspoons ground cumin
1/2 teaspoon salt
1/2 teaspoon dry mustard
1/2 teaspoon ground cinnamon
1/4 teaspoon freshly ground black pepper
1/4 teaspoon cayenne
1 pound plus 2 ounces red-skinned potatoes, cut into 1-inch cubes (3 cups)
2 1/4 cups reduced-sodium vegetable broth*
2 1/4 cups peeled, diced eggplant
1 1/2 cups chopped green beans
3/4 cup canned chick peas, drained and rinsed
2 teaspoons canola oil
3/4 cup thinly sliced shallots
1 tablespoon lemon juice
Preparation
Place 1/2 cup coconut, ginger, coriander, cumin, salt, dry mustard, cinnamon, pepper, and cayenne in a spice grinder or a mini food processor; grind or process until about the consistency of coarse sand.
Stir the potatoes and broth with the spice mixture in a large saucepan; bring to a simmer over medium-high heat, stirring occasionally. Cover, reduce heat to low, and simmer slowly for 10 minutes.
Add the eggplant, green beans, and chick peas. Cover and continue simmering slowly until the vegetables are quite tender, about 30 minutes.
Meanwhile, toast the remaining 6 tablespoons coconut in a dry skillet over medium heat until lightly browned. Pour into a bowl and set aside.
Heat oil in the same skillet now set over medium-low heat. Add shallots; cook, stirring occasionally, until lightly browned, soft, and very sweet, about 12 minutes.
Stir the lemon juice into the stew. Serve the stew in bowls, topped with the toasted coconut and frizzled shallots.
(Note: Unsweetened coconut, sometimes called desiccated coconut, is simply dried, shaved coconut flakes. It's found in gourmet markets, East Indian markets, and health food stores. Do not substitute sweetened coconut, familiar from the baking aisle of most supermarkets.)
Calories: 245 Fat: 1g Sodium: 500mg Vitamin C: 24% Carbohydrates: 33g Fiber: 7g Protein: 6g Potassium: 721mg
---
Tuscan Potato Skillet
Yield: 4
Prep Time:
Ready Time:
Cook Time:
Lemon zest, garlic and rosemary add a delightful Tuscan twist to this green bean, potato and chicken skillet. The best part? Only having to use one pan to whip up this weeknight favorite, which also makes clean-up a breeze!
Ingredients
1 pound petite red potatoes
1/2 teaspoon salt
1/4 teaspoon pepper
1 pound chicken tenderloins
2 tablespoons extra virgin olive oil, divided
1 tablespoon chopped fresh rosemary
4 cloves garlic, minced
1 (12-oz.) bag frozen green beans, thawed
1 lemon, zested and juiced
Preparation
Cut each potato into 4 wedges. Place in a large microwave-safe bowl and season with salt and pepper. Microwave on HIGH for 4 minutes. Stir and microwave for 4 minutes more.
While potatoes are cooking, cut each chicken tenderloin into 4 equal pieces. Heat 1 tablespoon oil in a large skillet over medium-high heat. Add chicken and cook for 5 minutes or until nicely browned, stirring frequently. Add remaining oil and potatoes; cook and stir for 5 minutes more to brown potatoes and fully cook chicken.
Stir in rosemary, garlic, green beans, lemon zest and juice. Cook for a few minutes more to heat through. Season to taste with salt and pepper.
Calories: 240 Fat: 7g Cholesterol: 50mg Sodium: 690mg Vitamin C: 50% Carbohydrates: 22g Fiber: 3g Protein: 22g Potassium: 137mg