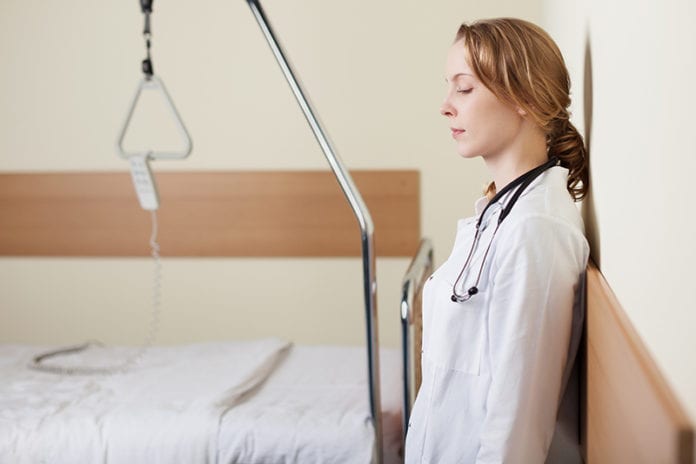 A recent opinion piece in The New York Times has got a lot of people talking, especially nurses. It focuses on the exploitation of one resource that seems infinite and free: the professionalism of caregivers.
The article gives several real world examples that many of us can relate to:
You are at your daughter's recital and you get a call that your elderly patient's son needs to talk to you urgently. A colleague has a family emergency and the hospital needs you to work a double shift. Your patient's M.R.I. isn't covered and the only option is for you to call the insurance company and argue it out. You're only allotted 15 minutes for a visit, but your patient's medical needs require 45.
These quandaries are standard issue for doctors and nurses. Luckily, the response is usually standard issue as well: An overwhelming majority do the right thing for their patients, even at a high personal cost.
It goes on to say that that health care has become corporatized to an almost unrecognizable degree. But it is also true that most clinicians remain committed to the ethics that brought them into the field in the first place. This makes the hospital an inspiring place to work.
The author writes that with mergers and streamlining, it has pushed the productivity numbers about as far as they can go. But one resource that seems endless — and free — is the professional ethic of medical staff members. By far the biggest culprit of the mushrooming workload is the electronic medical record, or E.M.R. It has burrowed its tentacles into every aspect of the health care system.
For most doctors and nurses, it is unthinkable to walk away without completing your work because dropping the ball could endanger your patients. I stop short of accusing the system of drawing up a premeditated business plan to manipulate medical professionalism into free labor. Rather, I see it as a result of administrative creep. One additional task after another is piled onto the clinical staff members, who can't — and won't — say no. Patients keep getting their medications and their surgeries and their office visits. From an administrative perspective, all seems to be purring along just fine.
The piece states that this status quo is not sustainable — not for medical professionals and not for our patients.
Mission statements for health care systems and hospitals are replete with terms like "excellence," "high-quality" and "commitment." While these may sound like Madison Avenue buzzwords on a slick brochure, they represent the core values of the people who labor in these institutions. Health care is by no means perfect, but what good exists is because of individuals who strive to do the right thing.
It is this very ethic that is being exploited every day to keep the enterprise afloat.
The health care system needs to be restructured to reflect the realities of patient care. From 1975 to 2010, the number of health care administrators increased 3,200 percent. There are now roughly 10 administrators for every doctor. If we converted even half of those salary lines to additional nurses and doctors, we might have enough clinical staff members to handle the work. Health care is about taking care of patients, not paperwork.
Those at the top need to think about the ramifications of their decisions. Counting on nurses and doctors to suck it up because you know they won't walk away from their patients is not just bad strategy. It's bad medicine.
Click here to read the article in its entirety and don't forget to share your thoughts in the comments section below.