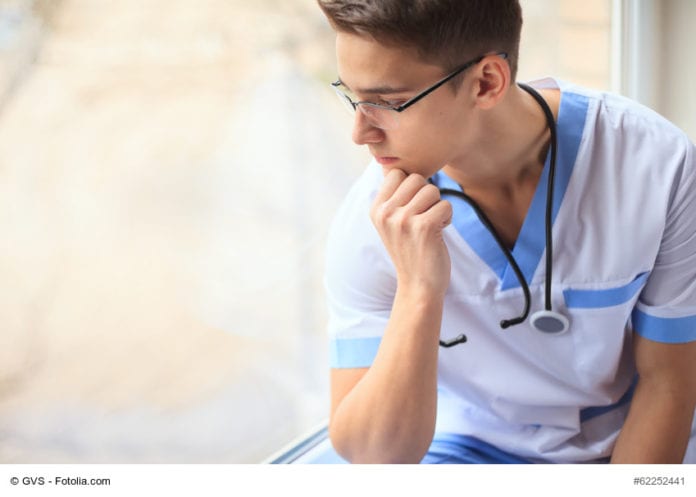 Most nurses are satisfied with their annual compensation, but 68% to 88% indicate dissatisfaction with their practice setting, and nearly half would not choose nursing as a career if they were to "do it all over again," according to the results of the Medscape Nurse Salary Survey.  The results show a direct correlation between nurses' level of training and overall satisfaction with salary, setting and career, with the most specialized nurses emerging as the most satisfied on all measures.
Conducted
between August 12 and October 2, 2015

, the survey obtained responses from 8,256 nurses nationwide, spanning a broad spectrum of training and credentials including:

> Licensed practical or vocational nurses (LPNs/LVNs), with one to two years of training

> Registered nurses (RNs), with a two-year associate degree or four-year Bachelor of Science degree from a nursing program (constituting the largest percentage of nurses)

> Advanced practice nurses (APNs) including nurse practitioners, clinical nurse specialists, nurse midwives, and nurse anesthetists

Results revealed a broad average compensation range, from $46,000 to $170,000, depending on specialty, education/degree, and setting. And although the field is dominated by women (according to the U.S. Census Bureau, approximately 90% of all U.S. nurses are women), male nurses are paid between 6% and 9% more than their female peers, with the disparity seen across all types of nurses.

"Nurses remain critically important to the delivery of quality healthcare, particularly in today's environment of value-based, patient-centric care. The Medscape survey provides important insights into nurses' views, attitudes, and career motivations – indicating a fair degree of financial satisfaction, but also uncovering some concerning perspectives about their happiness with their jobs and overall career decisions," said Susan Yox, RN, EdD, Director, Editorial Content, Medscape. "Our hope is that the survey will get people talking and thinking about how to best support nurses regardless of practice setting, education levels and gender."
Salary Rates and Satisfaction
.

Approximately half of all respondents reported satisfaction with their pay, although higher salaries are, unsurprisingly, linked to higher levels of satisfaction. For example, nearly three-quarters (73%) of nurse anesthetists say they are financially satisfied, while 53% of RNs and only 43% of LPNs are satisfied.
> Registered nurses earn an average salary of $79,000.
> Nurse anesthetists were the highest-paid professionals, with an average annual compensation of $170,000, but represent only 0.1% of all U.S. nurses. Other APNs earn salaries starting at $95,000.
> LPNs, the lowest paid group, earn an average of $46,000 per year.
Salaries also differ significantly based on type of practice setting and geographic region.  The highest full-time salaries were reported for contract work for agencies, long-term care, military/government, and hospitals (inpatient and outpatient). The lowest-paid nurses were in school and college health services, medical office/urgent care centers, and public and occupational health.
Full-time RNs who live in Western states earn the most on average ($105,000) followed by those in the Northeast ($87,000). RNs in North Central and Southeastern states have the lowest compensation ($69,000 and $74,000, respectively). Compensation rates for APNs fell along similar geographic lines, with those in the West making the highest average salaries ($120,000) followed by the Northeast ($108,000), Southeast ($95,000) and North Central region ($94,000).
Setting Matters
.

The vast majority of nurses – 68% of APNs, 78% of RNs, and 88% of LPNs/LVNs – indicate dissatisfaction with their practice setting, with only 32% of APNs, 22% of RNs, and 12% of LPNs stating they would choose the same setting again.  Those who work in non-hospital-based medical office or urgent care clinic settings are more satisfied (43%) than their peers working in hospital settings, while satisfaction is lowest in nursing homes (21%) and working for the government, which includes the military (23%).
"This survey shows that the working environment for RNs is still not uniformly providing the support and conditions that nurses find professionally rewarding and personally satisfying," said Pamela F. Cipriano, PhD, RN, NEA-BC, FAAN, president of the American Nurses Association. "Not surprisingly, nurses point to the relationship with their patients as most rewarding. Nurses in all settings deserve to receive competitive and fair compensation, but more importantly, they want the time and resources to provide the care they deem necessary to care for patients and families. This should serve as another wake-up call that we must do better to retain the all too critical nursing workforce."
If they could do it all over
...

A significant percentage of nurses would choose a different career.
> Only 60% of APNs, 56% of RNs, and 48% of LPNs would choose nursing as a career again. These percentages are even lower than the 64% of physicians who would choose a career in medicine if they could have a do-over (as reported in the Medscape 2015 Physician Compensation Report).
> Many nurses also appear to regret forgoing advanced degrees. More than half of RNs (51%) and LPNs (60%) said they would seek additional educational opportunities if they could start again. However, this conflicted with the relatively low percentage (33%) of nurses with a master's degree who would pursue one again.
Financial considerations
:
The push for higher degrees for RNs and APNs in order to enter practice, however, is not without challenges. For RNs, the cost of a BSN degree can be up to $100,000 more than the cost of an associate degree, while the annual salary difference in this survey is only $6,000.[i] The salary difference between a master's and a doctoral degree is $9,000 in Medscape's survey, but the higher degree may add up to $50,000 to the education bill.
"Of course, we want nurses with higher levels of education and training, but it has to make financial sense for them. If it takes 15-20 years in after-tax money to earn back principal and interest on the cost of obtaining an advanced degree, many will forgo the opportunity and, although there appears to be some regret, many have," said Laurie Scudder, NP, DNP, Executive Editor, Medscape. "While the majority of registered and practicing nurses would still choose nursing if they could go back in time, it's distressing to see such a high level of dissatisfaction across the board in their choice of practice. Further efforts to understand and address the factors behind this dissatisfaction will be critical to our profession and the healthcare system as a whole."
So...the big question is what do you think? Is it right on, totally off, or a combo of the two? Share your thoughts on the survey's findings in the comments section below.