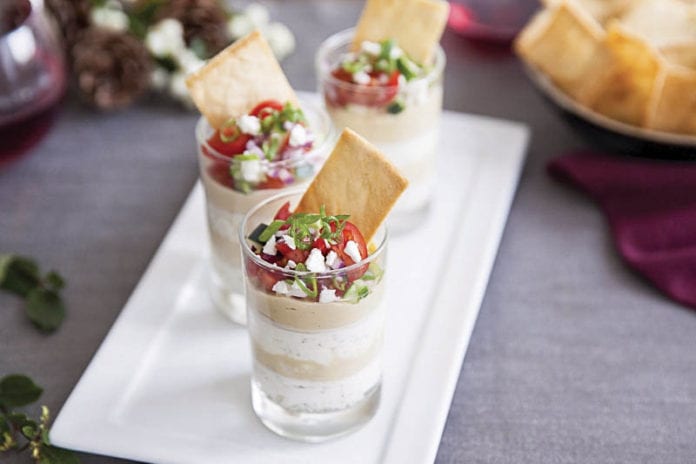 While burgers and brats are the traditional tailgating fare and have their place on the menu, sometimes you need to mix things up when preparing that game day spread.
For easy, delicious entertaining, add hummus to the tailgate menu. Available in a variety of appetizing flavors and made with fresh chickpeas and a touch of garlic and tahini, hummus is the perfect smooth and creamy accompaniment for chips, crackers, veggies and even tailgating favorites like chicken wings and burgers.
Start your game day crowd off with a 7-layer hummus dip, the perfect blend of hummus, Greek yogurt, vegetables and cheese, and then serve up a hearty batch of Basil Pesto Hummus Pasta Salad, a main course sure to delight the home fans and bring them back week after week.
Individual 7-Layer Dip

Serves 8

Total Time: 15 minutes

9

ounces Mediterranean Herb Greek Yogurt

10

ounces Classic Hummus

pinch of salt

pinch of paprika

1

tomato, diced

2

roasted red peppers, halved then diced

feta cheese, crumbled

2

tablespoons minced flat leaf parsley

Kalamata olives, chopped for garnish (optional)

1

bag pita chips
In individual-serving cups, dollop Greek yogurt evenly over bottom of each cup.
Top layer with portion of hummus, followed by another dollop of Greek yogurt. Sprinkle with salt and paprika.
Top each cup with handful of tomatoes, roasted red peppers and feta cheese.
Garnish with parsley and olives. Serve with pita chips.
Basil Pesto Hummus Pasta Salad

Serves: 4-6 (as a main dish)

Total Time: 15 Minutes

1

pound fusilli pasta

1

cup pitted Kalamata olives, rough chopped

1

cup fennel (2 small bulbs), finely chopped

1/3

cup sundried tomatoes in olive oil, drained and chopped

3/4

cup roasted red pepper

1/2

cup chives, minced

1

container (10 ounces) Basil Pesto Hummus

1

cup pasta cooking water, reserved

black pepper, to taste

2

tablespoons olive oil

fennel fronds for garnish
Cook pasta according to package directions. Drain, reserving 1-cup pasta cooking water.
Prepare all vegetables. In big bowl, toss vegetables with Basil Pesto Hummus. Add pasta and pasta water, stir to combine. Sprinkle with black pepper.
Serve at room temperature, drizzle each portion with splash of olive oil and sprinkle fennel fronds overtop.