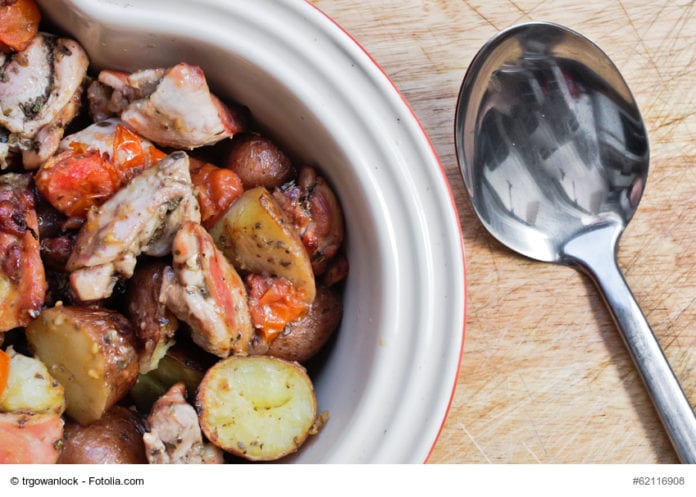 Now that we've officially packed away our warm weather attire and pulled out our parkas and sweaters, it's time to talk about one of the best parts of cold weather --soup.
That's right, there's nothing quite as comforting as the warmth of a healthy, hearty soup.
And the best part is most soup recipes can be made ahead of time and frozen or refrigerated and reheated just when you need it -which makes it a nurse favorite.  Check out a couple of our soup recipes below and then share your favorites in the comments section below.
Autumn Stew

Prep time :   20 minutes

Cook time :  45 minutes

Serves :   10

1/2

cup olive oil

2

small white onions, small diced

2

chile negros (dried pasilla chile peppers), finely chopped

2

poblano peppers, small diced

4

large garlic cloves, chopped

3

cups white beans, soaked overnight in cold water

8

quarts low-sodium chicken or turkey broth

1

large butternut squash, small diced

1

acorn squash, small diced

1

large sweet potato, medium diced

1

yam, medium diced

1/8  

cup sea salt or kosher salt

3

cups leftover roasted turkey, dark and white meat, cubed

1/4   

cup apple cider vinegar

1

tablespoon fresh thyme

3

leaves fresh sage

4

cups fresh mint, stemmed and chopped
In a 15-Qt. stockpot, heat oil over medium-high heat. Add onion, pasilla and poblano peppers. Cook until onions just become translucent, about 3 minutes. Stir in garlic and cook until it becomes soft and fragrant, about 1 minute.
Add beans and enough broth to cover them. Cook until beans are soft, about 20 minutes. Stir in remaining vegetables and season to taste with salt. Allow to simmer until tender, about 15 minutes.
With a handheld immersion blender, do four quick pulses to blend some of the soup and vegetables to make soup a little creamy without additional fat or cream.
Add turkey; cook another 5 minutes. Drizzle in vinegar to help balance sweetness; season to taste with sea salt.
Serve stew with plenty of fresh herbs (thyme, sage and mint).
_________________
Roasted Butternut Squash Soup with Charred Vegetables

Prep time :    20 minutes 

Cook time :   45 minutes

Serves : 6

1/2

cup chopped piloncillo

1

teaspoon ground cumin

3

cups large butternut squash, cubed and peeled

4

whole large carrots, unpeeled

3

tablespoons olive oil

2

garlic cloves, thinly sliced

1

chipotle pepper, chopped

2

quarts low-sodium vegetable stock

1/2

cup white corn kernels, washed

1/4

cup small diced Mexican squash

1

large jalapeno, stemmed, thinly sliced

3

fresh epazote leaves (or fresh coriander leaves if epazote is not available)

1

tablespoon kosher salt

1/4  

cup toasted pepitas (pumpkin seeds)
Heat oven to 350 F.
In large mixing bowl combine piloncillo, cumin, butternut squash and whole carrots. Toss to evenly coat and place on large baking dish. Roast in oven for 30 minutes, or until golden brown.
Allow to cool slightly, reserving about 1/4 of roasted vegetables. Cube carrots into bite-size pieces. Set aside.
In an 8 Qt. stockpot, heat olive oil. Saute about half the garlic, chipotle pepper, remaining carrots and butternut squash, and vegetable stock. Simmer for 10 minutes.
Working in batches, transfer cooked stock and vegetables to blender and puree. When complete, return to stockpot to keep warm for serving.
Meanwhile, heat medium-sized skillet. Add corn, Mexican squash, jalapeno, epazote, remaining garlic and reserved butternut squash and carrots.
Quickly saute to lightly char (not burn) veggies. Keep watch and stir when needed for 3-5 minutes. Season to taste with salt.
To serve, divide soup among six bowls. Top off soup with charred vegetables. Garnish with toasted pepitas and a drizzle of olive oil.
Find more recipes and quality cookware for all your holiday entertaining needs at princesshouse.com.