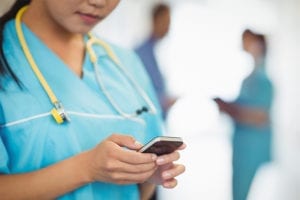 Avoiding or overcoming professional burnout is a constant challenge for nurses.
Numerous studies, medical journal articles and surveys reinforce the perception that nursing is a high-stress occupation. One way for nurses to respond to stress is to seek peers who can empathize and are eager to provide emotional and moral support.
And one way to find that support network is to explore the many online communities available for nurses. These may be professional groups, such as those found on LinkedIn; industry message boards, including those on the American Nursing Association (ANA) website; or informal digital public squares on Facebook, Twitter and Instagram.
Beyond emotional support, online communities can be useful for:
Exchanging healthcare knowledge and best practices
Professional networking and career advice
Camaraderie and entertainment
Seeking advice from peers about travel, food, relationships and more
Online communities also may help nurses combat what former U.S. Surgeon General Vivek Murthy called an American epidemic of loneliness. He has highlighted how the workplace can contribute to social isolation and loneliness.
"People want to be understood and appreciated as individuals who are more than a job," Murthy told The Washington Post in 2017. "They are mothers and fathers. They are people with passions outside of work. They are community members."
Nurses often monitor patients for signs of loneliness, but they also must be mindful of the detrimental effects of social isolation in their own lives. While no digital friendships can replace in-person relationships built on trust and warm familiarity, participating in an online community may help nurses feel more connected to the industry, as well as better informed.
The history of online communities can be traced to the late 1970s, when dial-up bulletin boards built around shared interests began to proliferate. By the early 1990s, an early version of the online forum emerged, along with user groups maintained by services such as Yahoo! and USENET.
Over the years, new conduct and engagement guidelines improved the community experience by promoting courtesy and respect and countering spam, bullying and hate speech.
Facebook Groups for Nurses
With more than 2 billion daily active users as of late 2018, Facebook remains the leading social media network, thanks, in part, to the ease with which users can find entertaining and useful content in public and private groups.
Most major nursing organizations maintain Facebook pages where community members can find and share industry information. Some of the largest, most-active public pages as of late 2018 were:
Funny Nurses (1.6 million users) – a stream of nursing memes and comedic articles
Nurses are Heroes (830,015 users) – inspirational and funny posts
Facebook also hosts communities for nursing students, travel nurses, ER nurses and others. Using the search function, users can find a public or private group for virtually any nursing interest.
LinkedIn Groups for Nurses
LinkedIn hosts many groups designed to encourage nurses to exchange industry information and build professional networks. Among the largest and most active are:
Registered Nurse Network (117,693 members)
Nursing Network (82,758 members)
Recruit a Nurse (73,065 members)
Nursing jobs (48,598 members)
Advanced Practice: Physician Assistant, Nurse Practitioner, Clinical Nurse Specialist, CRNA, Midwife (41,714 members)
Reddit and Other Social Media Platforms
The comment-driven online community Reddit hosts topical message boards. The largest of these "subreddits" for nursing is called, simply, Nursing.
There, nurses share posts about their jobs, pet peeves, triumphs and failures. Some seek advice, while others share funny photos or nurse-related jokes.
Twitter and Instagram also provide information and entertainment for nurses. Searching these social media platforms with the hashtags #nursing and #nurses yields accounts featuring people, companies and organizations of potential interest.
Nursing Organizations Online
Organizations such as the ANA and the National League for Nursing provide online message boards and other engagement for registered members. These communities help nurses keep up with industry news such as certification requirements, legislative issues and nursing education.
Not every online community is right for every nurse. Spend time exploring options and learning about the community dynamic before diving into an unfamiliar digital environment. As with any online engagement, practice discretion and ensure computers, mobile devices and digital networks are secure.
Your turn --what are your favorite online communities for nurses? Share in the comments section below.